When you contact me, let me know you've seen this "Parts Needed" page.
Power/Speaker Wiring Harness
All of the above models (which either have no radio buttons on the steering wheel, or have radio SWC buttons which only provide six audio functions — no Bluetooth buttons) use Subaru's 20-pin harness for the power and speaker connections to the head unit (radio). You will need my 20-pin "forward" harness with 2 SWC wires ($12, link).
You'll need to solder or crimp my harness to your new HU's power/speaker harness, creating an adapter that is mostly "plug-and-play." See my Subaru 20-pin HU installation guide.
The models covered on this 'parts needed' page do not have the Vehicle Speed Signal (VSS) on the 20-pin harness (or any of the other factory radio harnesses). If your new HU needs that signal, see my installation guide for where to find the factory wire to tap.
If your Subaru is one of the above models with no audio steering wheel controls (SWCs), your car is actually pre-wired for the SWCs. It's not too difficult to add the OEM SWC pod in place of the blank panel on your existing wheel. See this post (especially the first thread I link to there). So if you decide down the road to do that mod, keep me in mind for the interface module.
Steering Wheel Interface Module
If your car has audio SWC buttons (or you add them), the SWC wires on my harness are only part of the solution — that saves you from needing to splice into factory wires. However, most aftermarket HUs also require a steering wheel interface module — either the Axxess ASWC (by Metra), one of the various SWI-* models from PAC Audio (SWI-PS, SWI-JACK, etc.— different models depending on your new HU's brand), iDatalink Maestro, etc. More people prefer the ASWC.
Many Subaru owners have installed ASWCs and given rave reviews. In most cases, it programs itself and is ready to go a few seconds after the first power up. You can also manually program it if you want to reassign any buttons. Installation is much easier than the PAC modules.
I have the ASWCs available. See this page: Axxess ASWC-1.
To install, you will need to solder (recommended) or crimp some of the interface module's wires to my 20-pin harness and your new HU's harness. I can't pre-wire the harnesses for you, since you will need to combine with your new HU's harness.
Retain Factory Aux Jack
If your factory HU has a button labeled "AUX" on the front, it will have an 8-pin socket on the rear for its stereo aux input. A factory harness connects from the back of the HU to the back of the 3.5mm aux jack in the armrest center console. That harness has proprietary plugs at both ends.
I make an aux adapter harness you can use to retain your factory aux jack with an aftermarket HU. See this page: Subaru 8-pin aux harness.
The white 8-pin connector on my aux adapter fits the end of the factory aux harness that is (or was) plugged into the back of your factory-installed HU. My aux harness retains the stereo aux jack only, not the USB socket (if your car also has one). See more information about USB below.
Cars Without Factory Aux Jack
If your car is a base model with a blank panel instead of the factory aux jack, you can add this after-market panel mount aux jack:

(click thumbnail to see larger image)
Price for the "IS335" cable kit is $15. You'll need to drill a hole in the blank panel in your armrest console. In this case, you won't need my aux adapter harness (since your car lacks the factory aux harness).
The aux jack in this kit is for stereo audio only, no video. See the notes about iPod/iPhone interface cables in the section below ('Before Ordering Aux and/or USB Adapters').
OEM USB Socket
If you have one of the models covered by this page and your car has a factory-fitted USB socket next to the 3.5mm stereo aux jack, that means your car has Subaru's "Media Hub" accessory kit. The kit has an interface module which adds USB-capability to some base-level OEM HU models that did not have built-in USB. A variation also adds Bluetooth audio streaming. The Media Hub module connects to the 20-pin expansion bus port on the back of the OEM HU (same port used for OEM satellite radio receiver modules and other OEM accessories).
The kit includes an alternate aux pod with an added USB socket next to the 3.5mm stereo aux jack. The alternate pod is exactly the same size as the original aux-only pod (or blank panel). The only difference is the new pod has USB "A" sockets on both the front and back. The kit has a cable with USB "A" male plugs at both ends, with proprietary metal clips to lock onto the sockets on the interface module and rear of the aux pod.
You can connect the USB socket on this aux+USB pod to an aftermarket HU's rear USB socket. You'll need a cable or adapter with a standard male USB "A" plugs at both ends, to connect from the pod's rear USB socket to your new HU's rear USB socket. Total cable length needs to be about 3 feet (~1 m) to reach from the back of a HU to the aux+USB pod in Impreza and Forester models.
If your aftermarket HU's USB port is on the rear of the HU's body, you'll need a male-male cable. I don't have those cables currently, but they are fairly easy to find online.
For an aftermarket HU which has its USB socket at the end of a "pigtail" cable or includes a male-to-female USB extension cable, you'll only need a zero-length male-male adapter. I have adapters similar to this for $2:

(click thumbnail to see larger image)
If your car does not have the OEM USB socket, the alternate aux+USB pod also available as a replacement part from Subaru (P/N H621SAJ220). See pictures here. You would need to order the alternate pod yourself from a Subaru parts vendor (see list of US online discount vendors here).
Before Ordering Aux and/or USB Adapters
Study the connection diagrams in your new HU's installation manuals. With the cables and interface adapters required for some phones or iPods, it's sometimes not practical to retain your car's factory aux or USB sockets (due to the physical layout of all the pieces).
Older iPods sometimes use an interface cable which splits out into two plugs at the rear of the HU — one to plug into a USB socket and the other into an A/V aux input (4-pole style, with both audio and video). Your car's factory 3.5mm aux jack supports stereo audio only — it will not support video for an iPod video cable. So if you plan to use that kind of iPod cable, you may not want my aux harness (or the IS335 cable kit). See this post for pictures and more information.
Also note: Pioneer AppRadio models SPH-DA01, SPH-DA02, SPH-DA100, and SPH-DA210 do not have any aux inputs! The new AppRadio 4 (SPH-DA120) does have an aux input (finally!). I'm not referring to other recent Pioneer models with AppRadio mode.
If you're in doubt, check your HU's installation manual to see whether yours has any rear aux inputs.
Retain OEM Subwoofer
If your car has the rectangular-shaped OEM accessory subwoofer under either of the front seats, similar to this: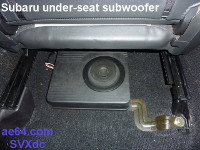 (click thumbnail to see larger image)
...or one of the OEM accessory rear subwoofers made by Kicker, those types of subs will work with an after-market HU without any modifications or special wiring needed. All of those subs have a T-harness which taps power, ground, and the front speaker outputs from the radio's power/speaker harness. See this post for details (post #4 in my 'Subaru stock HU Info' thread on NASIOC).
Forester "Odd-shaped" Sub
On the other hand, if your car has the odd-shaped OEM under-seat sub exactly like the one shown here, that subwoofer receives a line-level (low level) signal from the factory HU. I think only some Forester models got this subwoofer. The OEM HU provides the audio signal to the sub via additional pins on the car's aux harness.
I can build my aux adapter with an additional green male RCA plug so you can drive this odd-shaped sub from your new HU's line-level subwoofer output. See the Subaru 8-pin aux harness page for more information.
Dash Kit
The factory HUs in all 2008–up Impreza/WRX/STI and 2009–up Forester models have a face that is non-standard size (8" wide instead of the standard DIN 7"). You'll need a dash kit to fill the gap or an alternate OEM fascia/bezel ("JDM" style) which has a smaller DIN-sized opening.
I don't carry any dash kits, but have listed options and more information here.
AVIC Parking Brake Bypass
See this page: Pioneer AVIC parking brake bypass wire.
My AVIC bypass wire does not fit any of the new AVIC NEX models, nor any of the old models (AVIC–D3, –Z2, –FxxxBT, –UxxxBT, etc.). For all of these other AVIC models, see the forums at AVIC411.com. A software-only hack was found for the NEX navigation models (and it's been confirmed that you don't even need to connect the HU's parking brake lead).
On most Kenwoods, some recent JVCs, Parrot Asteroid Smart, most Chinese HUs, and perhaps all HUs designated for markets outside North America, you can simply connect the HU's parking brake lead to chassis ground.
I do not have parking brake bypass devices for any other aftermarket HU models (including Pioneer models starting with AVH–...). Search on eBay or Amazon. Be sure that you choose a device that is advertised to work with your specific HU model. The smaller, solid-state type devices are much better than a huge 30 Amp automotive relay.
Antenna Adapter
Most recent Subaru HUs have a standard Motorola antenna socket on the back, and the car already has an OEM antenna adapter (to convert from Subaru's proprietary antenna plug to a male Motorola antenna plug).
Cars with these OEM HU models definitely have the OEM Motorola adapter and do not need an aftermarket antenna adapter:
CM601U1, CP203K1, CP403L1, CP603U1, CP604U1, CZ201K1, CZ241K6, CZ341R6, CZ401L1, CZ441L6, CZ601U1, CZ641U6
The OEM non-nav HUs in a few Forester models have Subaru's proprietary connector. Cars with these OEM HU models definitely do require a Subaru antenna adapter:
PP243K6, PP343R6, PP443L6, PP643U6, PP644U6
There may be others. I have Subaru antenna adapters available for $8.
If your Subaru's OEM HU is not listed above, you may be on the wrong 'parts needed' page for your car. Otherwise, please tell me your OEM HU's model number (printed on the front) so I can verify whether you'll need an antenna adapter.
To Place Your Order
See this page for shipping and payment options. Let me know if you have any questions. When you're ready to place your order, please send the information requested on that page (in the section "To place an order").
Remember to mention you've seen this "Parts Needed" page.
© Copyright 2014 by David Carter. All rights reserved.