When you contact me, let me know you've seen this "Parts Needed" page.
Applicable OEM Head Unit Models
This page applies to Legacy and Outback models that were built for and originally sold in North America, with the following factory-fitted head units:
P-201UH, P-201UE, P-203UH, P-203UE, P-204UH, P-206UHB
Model number is printed on the front of the HU, above the CD slot.
JDM Dual-DIN Dash Kit with HVAC Controls
On all of the above HU models, the HVAC controls (Heating, Ventilation, and Air Conditioning) are electronic, with separate temperature dials for the driver and passenger, and digital temp. displays. The HVAC controls are integrated with the radio/CD portion of the HU as a single, combined unit. In order to replace the OEM stereo with an aftermarket HU, you must add a new HVAC control panel.
The sole "off-the-shelf" solution for this is Subaru's "AV Panel Set" (for Legacy/Outback). This is a kit which provides a replacement fascia with a dual-DIN sized opening (to accommodate most single- and dual-DIN aftermarket head units), with a separate HVAC control panel.
Subaru offers 5 versions. Only two are dual-zone: H6217AG911 and H6217AG912. You must choose either of those for North American cars (to replace your dual-zone OEM HU). Both models have been confirmed to work. The only difference is the color of the plastic.
Unfortunately, Subaru only sells the kits in Japan (intended for JDM right-hand drive models). To purchase one, you'll need to order it from one of the Japanese vendors who ship to USA and Canada (AVO JDM, Japanparts, or JDM-planet), or find someone who is selling a used kit.
This hasn't stopped owners in the USA and Canada. Many have successfully installed the JDM kits in their cars. For more information, see this thread on the LegacyGT forums:
Official dual HVAC Double Din (JDM) Kit thread!
RHD Hazard Switch
The RHD hazard switch is available from avoJDM.com and JapanParts.com also. Or you can keep using your car's original LHD switch on the right side by using the top 2/3 of one of the dash kits intended for models with manual A/C controls (Scosche SU2025B or Metra 95-8901). See this post and this post.
If you've already installed the JDM kit or your OEM HU has died, see this post for tips on how to get the auto HVAC system working temporarily.
The rest of this 'Parts Needed' guide focuses on items that I have available. For questions about ordering and installing the JDM kit and RHD hazard switch, please refer to the above forum thread. Just about every question you could ask has been answered there (often multiple times).
i88 Adapter Harness
The car's harness which handles the HVAC controls has an 8-pin plug designated "i88". While the JDM HVAC panel is "plug-and-play" in Legacys/Outbacks built in Japan, cars built in Subaru's USA plant lack some of the signals needed on the i88 harness (the plug can instead have several signals related to OEM navigation).
So in order to install the JDM kit in North American models, you'll need my i88 Adapter Harness. This connects between the car's i88 harness and the socket on the JDM HVAC panel, passing through the required signals from the car and providing a way to add the extra signals that the HVAC panel requires. Wiring instructions.
If your car has the OEM navigation system (and you want to retain that), let me know — you may want additional things from me.
Note: If your Legacy/Liberty/Outback was built in Japan and originally sold outside North America (to Australia, Europe, Japan, etc.), you will not need my i88 harness. Please see the alternate 'Parts Needed' links at the top of this page. Also see this post and this post.
Power/Speaker Wiring Harness
All of the above models use Subaru's 14-pin harness for the power and speaker connections to the head unit (radio). You will need my 14-pin "forward" harness (link).
Mine has both illumination/dimmer wires (which the JDM HVAC panel requires). No other harness manufacturer includes the dimmer wire. You'll wire this harness to your new HU's power/speaker harness, and also to the three wires on my i88 harness. Discounted price is $6.00 when ordered with the i88 harness.
If you already have a 14-pin harness (Metra 70-8901, Scosche SU03B, or similar) check it — you'll find that it only has 13 positions populated. I can supply the missing orange/white wire (with the proper pin) for $2.
If you somehow already have a 14-pin harness with all 14 wires, you can order my i88 harness by itself.
If you'll be having a stereo shop do your install and they say you don't need the 14-pin harness or missing orange/white wire, ask them if they're planning to do a "hard wire install" (where they cut off your car's factory radio harness). I strongly advise against doing it that way. Using the 14-pin harness will allow you to quickly and easily remove the JDM kit and reinstall a factory HU (something you might need to do if there are any problems with the JDM kit, or when you want to sell the car, or if your car is wrecked and you want to return it to stock before the insurance company values it and disposes of it).
2009 Models with harman/kardon
If your car is a 2009 with the OEM harman/kardon amplifier and speaker system, see this post.
Most 2009 owners have connected their aftermarket HU's speaker outs to the h/k amp without any problem. If you would prefer to send your HU's line outs to the h/k amp, you'll have to add male RCA plugs to the speaker wires on the 14-pin harness — nobody currently makes a version with RCA plugs.
The 2009 h/k amp is triggered from the car's +12V Accessory power (on whenever you turn on your key). There is no amp remote trigger lead on any of the 2009 OEM HU's harnesses.
Retain OEM Subwoofer
If your car has the rectangular-shaped OEM accessory subwoofer under either of the front seats, similar to this: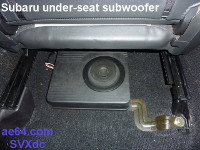 (click thumbnail to see larger image)
...those types of subs will work with an after-market HU without any modifications or special wiring needed. All of those subs have a T-harness which taps power, ground, and the front speaker outputs from the radio's power/speaker harness. See this post for details (post #4 in my 'Subaru stock HU Info' thread on NASIOC). You do not need my "i85" harness for this kind of sub! (see next section).
If your car is a 2009 with the h/k system, your OEM subwoofer (on rear parcel shelf in sedans, or near the tailgate in wagons) is driven by the h/k amplifier. Again, no extra harnesses will be needed to retain that. See notes about h/k system in previous section.
Retain Factory Aux Jack and/or Audio Steering Wheel Controls
Subaru models covered by this guide have a secondary 8-pin harness, designated "i85". That will have the wires from the Audio Steering Wheel Controls (SWCs) and the 3.5mm aux jack in the armrest center console (in models which have those features, respectively).
If your car has SWCs, you'll want my i85 harness with 2 SWC wires:

(click thumbnail to see larger image)
At present, I'm out of the RCA cables I use to make my aux adapters. If your car has the OEM aux jack (and you wish to retain that), I can supply my i85 harness with three plain 3" wires for aux. To those you would need to solder a 3.5mm plug or male left/right RCA plugs (whichever is needed for the aux input port you wish to use on the rear of your new HU).
I'm currently offering the i85 harness in 3 configurations:
With 2 SWC wires (6") only ($10)
With 3 plain 3" aux wires only ($14)
With SWC and aux wires ($16)
Special Case: Outback Rear Subwoofer
If your car is a 2005 or 2006 Outback with an OEM "subwoofer" speaker in the rear cargo area (on the outside wall, near the tailgate), that speaker connects to the OEM HU via two pins on the car's i85 harness. This kind of sub is only found in 2005–2006 Outback 3.0R VDC models with OEM HU models P-201UE and P-203UE.
The rear cargo sub is really more of a woofer. It is driven by a 5th-channel amplified output from those particular OEM HUs. Retaining the speaker would require that you add a small mono amplifier. Most people don't find that worth the effort — if you want a subwoofer, consider adding a better aftermarket sub.
If you do still want to retain your rear cargo sub, ask me about building my i85 harness with two additional leads for that. This does not apply to the under-seat sub or the h/k sub!
Cars Without Factory Aux Jack
If your car does not have the factory aux jack, you can add this after-market panel mount aux jack:

(click thumbnail to see larger image)
Price for the "IS335" cable kit is $15. You'll need to drill a hole wherever you wish to mount the jack (in your armrest console, or any other place that has a little more than 1" clearance behind the surface). In this case, you won't need the aux wires on my i85 harness (since your car lacks the factory aux wires).
The aux jack in this kit is for stereo audio only, no video. See the notes about iPod/iPhone interface cables in next section.
Before Ordering Aux Adapter
Study the connection diagrams in your new HU's installation manuals. With the cables and interface adapters required for some phones or iPods, it's sometimes not practical to retain your car's factory aux socket (due to the physical layout of all the pieces).
Older iPods sometimes use an interface cable which splits out into two plugs at the rear of the HU — one to plug into a USB socket and the other into an A/V aux input (4-pole style, with both audio and video). Your car's factory 3.5mm aux jack supports stereo audio only — it will not support video for an iPod video cable. So if you plan to use that kind of iPod cable, you may not want my aux harness (or the IS335 cable kit). See this post for pictures and more information.
Also note: Pioneer AppRadio models SPH-DA01, SPH-DA02, SPH-DA100, and SPH-DA210 do not have any aux inputs! The new AppRadio 4 (SPH-DA120) does have an aux input (finally!). I'm not referring to other recent Pioneer models with AppRadio mode.
If you're in doubt, check your HU's installation manual to see whether yours has any rear aux inputs.
Steering Wheel Interface Module
If your car has audio SWC buttons, the SWC wires on my i85 harness are only part of the solution — that saves you from needing to splice into factory wires. However, most aftermarket HUs also require a steering wheel interface module — either the Axxess ASWC-1 (by Metra), one of the various SWI-* models from PAC Audio (SWI-RC, SWI-PS, SWI-JACK, etc.— different models depending on your new HU's brand), iDatalink Maestro, etc. More people prefer the ASWC-1.
Many Subaru owners have installed ASWCs and given rave reviews. In most cases, it programs itself and is ready to go a few seconds after the first power up. You can also manually program it if you want to reassign any buttons. Installation is much easier than the PAC modules.
I have the ASWCs available. See this page: Axxess ASWC-1.
To install, you will need to solder (recommended) or crimp some of the interface module's wires to my i85 harness, 14-pin harness, and your new HU's harness. I can't pre-wire the harnesses for you, since you will need to combine with your new HU's harness.
If your car is a 2008-2009 model with the cruise control buttons on the right spoke of the wheel and a blank panel on the left spoke, it's actually not too difficult to add the OEM SWC button pod in place of that blank panel. See this post (especially the first thread I link to there). If you decide to do that mod, keep me in mind for the i85 harness and interface module.
No USB Socket
None of the Subaru models covered by this guide have a factory USB socket. If your new HU has one, you'll have to improvise a way to access that. There are USB cables with a panel-mount socket (similar to the above IS335 cable) available from many vendors (I don't carry any currently). You could also have the end of your HU's USB cable emerge into your armrest console, the storage "cubby" above the HU, glove box, etc.
Antenna Adapter
The JDM HVAC kit includes a Subaru antenna adapter. So if you've ordered one of those kits new, you will not need one from me.
If you have purchased a used kit that lost its antenna adapter, you'll want my Subaru antenna adapter ($8).
To Place Your Order
See this page for shipping and payment options. Let me know if you have any questions. When you're ready to place your order, please send the information requested on that page (in the section "To place an order"). Or use my shopping cart instructions (if I've e-mailed those to you).
Remember to mention you've seen this "Parts Needed" page.
© Copyright 2014-2017 by David Carter. All rights reserved.