Concept:
A popular "upgrade" in Legacys (Libertys) and Outbacks has been to replace the factory head unit (HU) with a newer OEM model. In general, the HUs are interchangeable across all model years 2005–2009 (4th generation, model codes BL and BP), provided that the new HU has the exact same type of HVAC controls as the car originally had. All of the car's factory harnesses will be plug-and-play with a newer HU, and all HVAC and audio functions will still work (with a few exceptions, detailed below).
The information here is aimed primarily at North American owners (USA and Canada), since I'm more familiar with those models and their wiring.
Reasons to do this mod:
Upgrade to a newer OEM HU with additional features:

Aux input
MP3 file capability
OEM satellite radio tuner capability
OEM iPod adapter capability

Replace original HU that has died (broken 6-disc mechanisms are not uncommon)
Note that Subaru's "Media Hub" (accessory module that adds USB capability) is not compatible with 4th gen HUs.
Features that work the same:
AM/FM, CD
OEM

under-seat

subwoofer
Audio Steering Wheel Controls (on cars and HUs that have SWC capability)
Night Illumination Dimness Cancellation ("Bright" mode)
Audio prompts from OEM navigation
Features that work differently:
Aux input — Probably the reason you're doing this mod. 2005–2006 cars are not wired for the aux jack, and 2005–2006 OEM HUs do not have aux capability. You'll need to add an adapter harness to connect an aux audio source into a 2007–2009 HU (or you'll need to modify one of your factory harnesses, designated "i85").
Illumination — 2007 and later switched to LEDs. The illumination on newer HUs will still work, but 2005–2006 cars won't dim the LEDs as effectively as newer cars.
Rear cargo subwoofer speaker output. This feature was only present on certain 2005–2006 Outback wagons, and was deleted on later years.
CD disc & track selection slightly slower on MP3-capable HUs.
The 2009 HU in North American cars is designed to be connected to the external OEM harman/kardon amplifier, but still works in earlier cars.
OnStar/Phone Audio Input — Only present on some 2005–2006 OEM HUs. 2007 and later HUs deleted this feature.
Wiring differences are explained in more detail, below.
Transplanting non-North American HU into NA car
Yes, installing a HU from an Australian, European, or Japanese car into a USA or Canadian model can work, with these caveats:
Most non-NA HU models that I've seen (perhaps all) use a different physical 8-pin socket for the aux input. The NA cars' i85 plug does not fit. If you want to retain any of the signals from your car's i85 harness, you'll need to buy or build an adapter harness. I can build adapter harnesses with the appropriate plug for those models. E-mail me your old and new HU's model numbers for details.

HUs from outside NA with auto HVAC controls require additional signals on the i88 harness which NA cars don't have (+12V Accessory, Illumination+, and Illumination–). You'll need my i88 adapter harness (or make a similar mod to your i88 harness) to supply those signals.
A HU from a Right Hand Drive (RHD) car can work, but you'll have issues with fitment of the HU's fascia and the hazard switch (like what people encounter when installing the JDM dual-DIN dash kit in a LHD car). It's much easier to stick with a LHD HU in a LHD car.
Japan uses a different range of frequencies for FM (76–90 MHz). Left stock, a JDM HU will only receive 87.5–90 MHz in other countries. You would need to add a band converter to shift stations at 90–108 MHz down to frequencies that the JDM HU can tune. Some JDM models may have circuit traces you can cut or components you can remove to switch to the 87–108 range, but I don't have any details. Band converters can be annoying to use, so it's better to skip JDM HUs.
Differences Details
Subwoofer —
READ THIS
OEM Accessory Sub
If your car has the rectangular-shaped OEM subwoofer under either of the front seats, similar to this: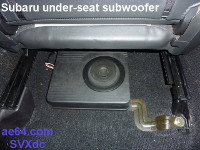 (click thumbnail to see larger image)
that type of sub will work with a newer HU without any modifications or special wiring needed. The under-seat sub has a T-harness which taps the front speaker outputs from the radio's 14-pin power/speaker harness. See this post for details (post #4 in my 'Subaru stock HU Info' thread on NASIOC).
harman/kardon System
If your car is a 2009 with the harman/kardon amplifier and speaker system (including a subwoofer on the sedan's rear deck or in the wagon's rear cargo area), that subwoofer (along with the h/k system) will still work. See additional notes about 2009, below.
Outback 3.0R VDC Sub
If your car is a 2005–2006 Outback 3.0R VDC with OEM HU model P-203UE (Matsushita model CQ-EF1560), you'll have a subwoofer speaker in the rear cargo area. That sub will no longer work with a newer OEM HU model. The P-203UE has a built-in, 5th-channel powered subwoofer output. No other 4th-gen HU model has that feature. Retaining that rear sub speaker would require adding a small mono amplifier. Since it's really more of a woofer than a true subwoofer, it's not worth the effort, IMHO.
Illumination
2005–2006 models (like prior years) have incandescent bulbs for the instrument and button backlights. Those models use an analog signal to vary the brightness of those bulbs (the car's dimmer circuit varies the voltage across the bulbs between 0 and 12 Volts).
In 2007, Subaru switched Legacys/Outbacks to LEDs for the backlights. LEDs don't dim well by simply varying the voltage. They require a different method for dimming — a technique called Pulse-Width Modulation (PWM). The voltage is always 12V, but it is switched rapidly "on" and "off". Your car's dimmer knob adjusts the percentage of "on" time. The frequency of the pulsing is fast enough (about 250 Hz) that the LEDs simply appear dimmer or brighter.
In a newer HU, the LEDs will still light up, and you can still vary the brightness. However, the intermediate levels won't be as bright as they would be on a 2007–up car. This same issue applies to the JDM HVAC panel kit.
2009 harman/kardon HU
North American 2009 models have the harman/kardon amplifier and speaker system. The OEM HU (model P-206UHB, Panasonic CQ-EF1861X) has a built-in 4-channel amplifier IC for the four main speaker outputs. However, its output impedance is 10,000 Ohms (10K Ohms), rather than the typical 4 Ohms. This HU can directly power the speakers in older cars, although people have reported that you'll need to turn up the volume a little higher than you were accustomed to.
In theory, an older HU should still be able to work in a 2009 car with the h/k amplifier (though I haven't heard from anyone who has tried).
i85 Harness Differences
Most models across years 2005–2009 have a factory harness with an 8-pin plug, designated "i85".
Pictures of the harness in a 2005:
This table lists the functions of the pins for each year:
Pin


2005-2006


2007-2009




Function
Wire Color


Function
Wire Color
1


Phone Signal(+) A
NC


Aux Left
Brown
2


Tel On A
NC


Aux Right
Yellow
3


SWC(+) B
Violet/White


SWC(+) B
Violet/White
4


Subwoofer(+) C
Red


NC
NC
5


Phone Signal(–) A
NC


Aux Ground
Gray
6


Subwoofer(–) C
White


Aux Enable
Red/White
7


SWC(–) B
Orange/White


SWC(–) B
Orange/White
8


NIDC D
Green


NIDC D
Green
"NC" = Not Connected — there is no factory wire in this slot.
A: Phone Audio Input (into HU) — For OnStar or wired car-phone kit. Only present on some 2005–2006 OEM HUs (however, not used in any North American Legacy/Outback models that I'm aware of). 2007 and later HUs deleted this feature.
B: Audio Steering Wheel Controls — In 2005–2007 cars (note that range includes one year with aux), where the audio steering wheel controls were not factory-installed, these wires dead-end at an intermediate harness under the dash. In 2008–2009 models, these run all the way to the wheel, even if it has the blank panel instead of audio SWCs.
C: Subwoofer — Output only present on HU model P-203UE. Apparently, all NA 2005–2006 cars have the factory wires at i85, but in models with other HUs the wires dead-end somewhere behind the dash.
D: "NIDC" — Night Illumination Dimming Cancellation ("Bright" mode). This signal alters the radio's illumination. When you turn on your headlights, the radio, clock, and HVAC displays dim. The NIDC signal returns the displays to "daylight" brightness (useful when you run your headlights during the day). 2005 models activate this mode via the "Bright" button (sun-like symbol) on the clock. 2006 and later models activate this mode when you rotate the instrument panel dimmer knob all the way up to the brightest setting.
As you can see, three pins are the same across all years:
On 2007–2009 cars and HUs, four pins are used for the aux input (left, right, ground, and enable).
So to install a 2007–2009 HU into a 2005 or 2006 car, you'll need an i85 adapter that retains the pins that are the same (bridging them from the car's i85 harness plug to the same pins on the HU's socket) and which connects your aux audio source into the HU. Or, you'll need to modify your car's i85 harness to add the aux input to the appropriate pins (which will mean adding several new wires, and possibly extracting/moving or cutting existing wires).
Note that if you're transplanting between 2007–2009 cars and HUs, no i85 adapter is needed. Similarly, if you're installing a 2005 or 2006 HU into a 2005 or 2006 car, you won't need to change anything on the i85 harness.
Which wires on i85 do I need to pass through?
NIDC: All years (2005–2009).
SWC+/–: All cars where SWC buttons were factory-installed. Plus 2008–2009 cars that shipped without SWCs but you think you will add the OEM button pod (not that difficult — see this post).
Test your new HU Immediately
As I said, everything on a 2007–2009 HU will be plug-and-play in a 2005 or 2006 Legacy/Outback, except for the aux input (and the rare Outback rear cargo subwoofer). So as soon as you receive the newer HU, I strongly recommend that you go ahead and install it right away. You can plug all of your factory harnesses into the HU (including i85). Verify everything works. If there are any problems, you'll want to know quickly so you can return it (if the seller offered any warranty).
Tip: The coax cables on the car's and HU's antenna connectors are somewhat fragile. When you unplug those connectors, only hold the gray plastic shells — do not pull the cables! Several people have accidentally ripped the cables out of the connector. There is a latch release button on one of the narrow sides of the car's plug.
Aux Input Options
So you're ready to install a newer HU that has aux and you've figured out which of the wires you need to pass through from the car's i85 harness to the new HU. The only thing left to decide is what kind of aux jack or plug you want. Here are some possibilities...
Choose this option if you would like your aux jack to look stock.

In 2007 and later models, the aux jack is in the armrest center console, next to the accessory power outlet ("cigarette lighter" outlet). The inner "bin" (pocket) from those newer models can be swapped into 2005–2006 cars. Picture of bin (with OEM aux pod and accessory outlet already installed):


(click thumbnail to see larger image)

OEM parts you'll need to obtain:
92174AG05A — "pocket console sia" (bin), MSRP $34.47, approximately $29 from the online Subaru discount parts vendors.
86257AG100 — "aux unit ay st" (aux jack pod), MSRP $69.78, approx. $51 online.
Both parts will be considerably less from a salvage yard.
You'll transfer your existing 12V accessory power outlet over to the new bin.
This method requires one more OEM part — an aux harness intended for 2008-up Imprezas (Subaru doesn't offer a comparable harness for NA Legacy/Outback).
The Impreza harness has the correct 6-pin plug which fits the socket on the back of the Legacy aux pod. However, that must be re-pinned to work with the Legacy aux pod. At the HU end, the Impreza aux plug won't fit NA models. That end must be cut off, and the harness wired onto the i85 adapter.
To save you shipping costs and time, I'll order the Impreza harness myself, re-pin it, and integrate it with my i85 adapter. Link to picture and prices below.
Installation walk-through, with additional pictures: Installed - Aux port - 2005 Outback (long)
Aftermarket Panel-mount Aux Jack
Sometime in the last couple of years, Subaru jacked up the price of the OEM aux pod (it had been around only $15 !). A less-expensive option is this aftermarket aux cable kit, which includes a panel-mount 3.5mm stereo jack:

(click thumbnail to see larger image)
You can install the panel-mount jack on just about any flat surface that has sufficient clearance behind it (about 1 inch).
For this, you'll want an i85 adapter with a short cable with left/right female RCA jacks.
OEM-like variation
In markets outside NA, some 2007–2009 models came from the factory without the OEM aux jack, but still have the bin with the square hole for it. Those cars ship with a blank cover plate in that spot. If you can buy that blank plate, you could combine that with the newer bin and the IS335 kit. You'll have nearly the same OEM look at a much lower cost (since you won't need the OEM aux jack or Impreza aux harness). However, I don't know whether the blank is available in the US.
Simple Cable With Stereo Audio Connector
This option is the most bare-bones. The i85 adapter can have cable with a plug or jack that you connect directly to your aux device. The cable can be short, so you plug in your audio source (or an extension cord) behind the HU. Or the cable can be longer so the end emerges some place in the car where you can reach it (glove box, ashtray, cubby above the radio, armrest center console, underneath a seat, etc.). See link below for picture and prices.
i85 Transplant Harnesses
See this page.
OEM HU Models
Information about the various HU models [work in progress]:
HU Model
Mfr.
Model
Car Years
HVAC
Controls
SWC
Input
Notes
P-201UN
Matsushita
CQ-JF1460L
2005
Manual
Yes
Single antenna input. No 20-pin expansion bus socket.
P-201UN
Matsushita
CQ-JF1460LA
2005–2006
Manual
Yes
Single antenna input. No 20-pin expansion bus socket.
P-204UN
Panasonic
CQ-JF1660X
2007–2008
Manual




P-204UN
Panasonic
CQ-JF1760X
2007–2008
Manual




P-206UNB
Panasonic
CQ-JF1860X
2009
Manual


Intended for harman/kardon amplifier system. See additional notes, above.
P-201UE
Matsushita
CQ-EF1460L
2005–2006
Auto
Dual-zone
Yes
Single antenna input. No 20-pin expansion bus socket.
P-201UH
Matsushita
CQ-EF1461L
2005–2006
Auto
Dual-zone




P-203UE
Matsushita
CQ-EF1560L
2006
Auto
Dual-zone
Yes
Single antenna input.
P-203UH
Matsushita
CQ-EF1561L
2006
Auto
Dual-zone
Yes
Single antenna input.
P-204UH
Panasonic
CQ-EF1761X
2007–2008
Auto
Dual-zone




P-204UH
Panasonic
CQ-EF1661X
2007–2008
Auto
Dual-zone




P-206UHB
Panasonic
CQ-EF1861X
2009
Auto
Dual-zone


Intended for harman/kardon amplifier system. See additional notes, above.