Introduction
Although my transplant harness takes care of all of the connections between your Impreza or Forester's factory radio harness and an OEM Kenwood Navi head unit, the Navi requires several other signals that are not available from the radio harness. To have full functionality, you'll need to connect those wires to other factory wires under your dash. You'll need to do some research to find the best locations to tap those wires in your particular model/year.
Physical Installation
Important: You need to take precautions to avoid scratching your dash, losing screws behind the dash, and blowing fuses. If you aren't experienced and comfortable doing a radio install, I urge you to enlist the help of someone who is (or consider paying a car stereo shop to do this — in most ways, this is the same as installing an aftermarket navigation HU).
Opening Dash and Removing Factory Radio
Tip: Remember to eject all of your CDs/DVDs first!
Search for guides on the various Impreza and Forester forums for tips and pictures on opening your dash and removing your factory radio. 2008–up Imprezas and 2009–up Forester are all very similar, so guides for any of those modes/years will be helpful. See my 'Subaru stock HU info' thread on NASIOC for tips and links.
Subaru's web site has installation instructions for most of their OEM accessories. You can download those documents free here: Subaru Technical Information System. Many guides include the procedure to remove and re-install the stock HU (e.g., Sirius/XM satellite radio receivers, subwoofers, iPod interfaces, etc.). Search for guides that cover your model and year (choose Publication Type "Accessory Installation Guide"). Guides for 2011 models have started including color pictures instead of less-detailed line drawings.
In some countries outside of North America, Subaru sells the Navi HU as an accessory kit that a dealer or owner can add to a non-nav car. I've attached Subaru's installation instructions to this post on SubaruForester.org. That guide includes several drawings and tips that you may find helpful.
Factory Radio Brackets
If you received a Navi HU with mounting brackets attached, compare those to the brackets on your OEM HU. If they are identical, you can use the brackets that came with the Navi.
If the brackets are not the same, or if your Navi did not include brackets, you will need to transfer your OEM HU's brackets to the Navi. Mark all of the brackets so you can keep track (OEM, Navi). Note that the brackets are stamped "LH" and "RH" — those are oriented as you sit in the car facing forward.
Caution: In many Subarus, the screws holding the brackets to the radio are extremely tight. Use a screwdriver that is exactly the correct size to match the screws. Place the HU on its side on your workbench, with blocks of wood underneath the HU to protect the overhang of the HU's front and the mounting tabs protruding from the bottom bracket. Keep your screwdriver pressed down hard into each screw while you unseize it.
Connector Pin-out Table Links
For reference, here are pin-outs and wiring diagrams that cover the main connectors you'll be using:
Subaru's wiring diagrams for the non-nav and Navi HUs in a 2009 Forester are attached to this post on SubaruForester.org. Forester wiring diagrams include the connections from the Navi's subwoofer output to the OEM under-seat subwoofer (which Imprezas don't have).
Subaru's 2008 wiring diagrams which show the Navi HU in Imprezas are available here. Be sure to click on some of the Google ads to help fund that site (if you don't see the ads, temporarily turn off your browser's ad blocking, or use a different browser — the ads are below the menu in the left column).
24–pin Navi Harness
Wire colors
These are the normal colors I use on most of the transplant harnesses that I build. However, I sometimes make color substitutions. When I ship your harness to you, I'll detail any differences via e-mail.
| | | |
| --- | --- | --- |
| Pin | Function | Wire Color |
| 3 | SWC + | BROWN/RED |
| 15 | SWC – | BROWN/BLACK |
| | | |
| 6 | CAN Low | BROWN/YELLOW |
| 18 | CAN High | BROWN/GREEN |
| | | |
| 4 | Parking Brake | GRAY/WHITE |
| 5 | Reverse Gear | BROWN/WHITE |
| 7 | Forester | BLACK (marked w/ BLUE heat shrink) |
| 16 | +12V Ignition (ON/RUN) | RED/YELLOW |
| 17 | Vehicle Speed Signal (VSS) | PINK/BLACK |
| | | |
| 9 | A/V (aux) Input Enable | VIOLET/WHITE |
| 10 | A/V Audio Left | WHITE/BLACK |
| 21 | A/V Audio Ground | BLACK |
| 22 | A/V Audio Right | RED/BLACK |
| | | |
| 11 | Subwoofer Output Ground | |
| 12 | Subwoofer Output + (positive polarity) | |
| 23 | Amplifier Remote turn-on | BLUE/WHITE |
| 24 | Subwoofer Output – (inverted polarity) | |
All of the Navi HU's audio functions should work without any of these extra wires connected (the Navi HU worked for someone who did a similar transplant with the 24–pin harness completely missing).
Wire Details
Pin 4 — Parking Brake
When the parking brake is "off" (pin 4 ungrounded), the HU locks out certain data entry and display of DVD and aux video. You can simply connect this wire to chassis ground. However, even if you do the HU will still detect driving (via GPS, VSS, or both?) and may still block certain functions (e.g., POI searching, address entry).
Pin 5 — Reverse Gear
The reverse gear signal tells the Navi HU to display the rear camera image (if a camera is connected). It may also improve position tracking (in conjunction with VSS) at times when you have poor GPS reception.
Pin 7 — Forester / Impreza "Sensing Terminal"
According to instructions from Subaru (for Navi kits sold as a dealer- or user-installable option), this pin must be connected to chassis ground when the Navi is installed in a Forester. For Imprezas, insulate the free end of the wire.
We don't know exactly what changes this input causes (perhaps the performance data or maintenance schedule?). Early on, I had theorized this pin enabled the subwoofer output, but people have confirmed the sub out works whether pin 7 is connected or not.
Pin 16 — +12V Ignition
This should be connected to +12V Ignition (a wire that gets power when you turn your key to "ON/RUN", not +12V Accessory!). However, nobody has reported seeing any changes when this is connected.
Pin 17 — Vehicle Speed Signal
This pin must be connected for many features to work:
Turn-by-turn spoken driving instructions
Tracking of your progress on a trip
Automatic rerouting during trips
Active fuel consumption (on the 3-meter display). The same screen shows average fuel economy and throttle response, which both do work without VSS.
"Time" field on the Driving Record Data screen (trip data display — distance/time/fuel consumption). Otherwise the time stays on "00:00"
Maintenance and service reminders (mileage-based)
At this point, I don't know what pins 7 and 16 do.
Connection Instructions
Search threads on various Subaru forums to learn the best locations to tap the above signal wires in your particular model and year. Aftermarket HUs with navigation and a rear camera input require some of these same signals, so many people have needed to find these for their installations. Here are two to get you started:

The Mythical 2005 OP Connector System — While this is a thread on the Legacy forum, some Imprezas and Foresters may also have that connector.

Speed Pulse, Reverse, Parking Brake Wires — Alternative locations if your car doesn't have the OP Connector

In Subaru's instructions for the Navi HU accessory kit (see link above, under "Physical installation"), section 5 of the guide (titled "Connection") shows a factory 15–pin harness ("15P connector"). That is the so-called "OP Connector" found in some models/years. Your particular car may not have this. If the harness is present, the factory normally tapes it back completely out of view (in other words, it won't be easy to see).

Tip: Posi-Taps are a great way to tap into factory wires.

Tip: You may want to add some type of insulated quick-disconnect crimp connectors to attach longer wires to the wires on my 24–pin harness. That will make it easier to remove my harness. If you later decide to switch to an aftermarket HU, you'll also be able to easily connect those wires to your new HU.

Important: Insulate the ends (individually) of any wires that you do not use.
Rear Harness, Antenna, and A/V Connectors
Here's an annotated picture of the back of a Navi HU:
(Click to see larger image)
AM/FM Antenna
When it hasn't been cut off by an impatient car salvage yard employee, the AM/FM antenna lead on the Navi has Subaru's proprietary socket (at the end of a short "pigtail" cable).
If your Impreza or Forester has the older-style, round Motorola plug, follow that cable back into your dash. Most 2008 and later models actually have Subaru's proprietary antenna plug, along with an OEM adapter to convert to the Motorola plug, Approximately 6 to 8 inches (15 to 20 cm) back from the Motorola plug, you should fund a junction of square, gray connectors (probably wrapped in a square sheet of gray foam rubber). There is a release button on the side of the car's plug.
If your car really doesn't have Subaru's connector, you'll need a reverse Subaru antenna adapter.
Caution: Do not pull the coax antenna cables! The wires are somewhat fragile, and people have accidentally ripped them out of the crimped ends (or even out of the HU).
GPS Antenna
The Navi HU does require a GPS antenna for nav functions. The OEM GPS antenna is not pre-installed. You'll only find it in cars where the OEM Navi HU was factory-installed.
UPDATED: If you buy an aftermarket GPS antenna, it must have an Eclipse-style plug. Here's one on eBay from a vendor in the US, with a good picture of the plug (I don't know anything about that vendor or the reliability of their antennas). I have seen antennas with the same plug from other vendors in Hong Kong.
GPS antennas for some aftermarket Kenwood HUs have a plug with electrical contacts that will match the Navi's socket, but you will need to shave off a little bit of plastic from the plug.
In recent Imprezas and Foresters, the location for the OEM antenna is underneath the dash, above the instrument cluster (speedometer, etc.). GPS signals have no trouble passing through the windshield and thin plastic dash. See this diagram (part position #3):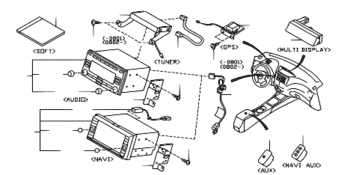 (Click to see larger diagram with part numbers)
You may also find a location directly behind the HU that works. Keep the GPS antenna right-side up, and as high as possible under the dash (with nothing metal above it).
The OEM GPS antenna sits on a metal plate that enhances reception (acting as a "ground plane"). If your antenna lacks that, you should add one.
A/V (Aux) Audio Input
I build the aux input on my transplant harness in one of these three configurations:
8–pin Aux Socket
Plug your Impreza or Forester's factory aux harness (with 8–pin plug) into this socket. That will connect your car's 3.5mm aux jack (in the armrest center console) as the audio portion of the Navi's A/V input.
The aux input is disabled when nothing is plugged into your 3.5mm jack (the jack has a switch to detect when a plug is inserted).
Note that the 8–pin socket on my transplant harness is the same type as the Navi's rear camera socket. Don't mix up the two.
Left/Right Female RCA Jacks
The white and red RCA jacks (labeled "A/V AUDIO INPUT" or "LINE IN") are the left and right audio channels for the A/V input. These are like the OEM A/V jacks in the center console on Imprezas and Foresters where the Navi was factory installed.
You must connect the aux enable wire (pin 9) to chassis ground to enable the HU's aux input.
Plain Wires
Connect the aux left, right, and ground leads to your aux audio source. I recommend wiring these to some kind of male or female audio connectors(s) and using patch cable(s).
You must connect the aux enable wire (pin 9) to chassis ground to enable the HU's aux input.
A/V (Aux) Video Input
When present, this will be a single RCA jack (labeled "A/V VIDEO INPUT" or "VIDEO IN").
Video Output
When present, this will be a single RCA jack (labeled "VIDEO OUTPUT" or "VIDEO OUT"). This is for an additional display (e.g., headrest monitor). It will continue showing the picture from a DVD or the video input even when you change the HU's touchscreen display to the map or rear camera view.
Subwoofer Output
The Navi's subwoofer output is balanced, line-level (low level), mono. I build the subwoofer output on my transplant harness in one of these three configurations:
Single Female RCA Jack
Labeled "SUBWOOFER OUTPUT" or "SUB OUT". Connect this to the input on your amplifier or powered subwoofer. Connect the blue/white amp remote turn-on lead (pin 23, +12V output) to your amp or sub's remote input terminal.
On some subwoofers and amplifiers, you may need to use an RCA Y-adapter to connect the Navi's sub out to both of the amp's left and right inputs.
The amp remote turn-on wire may also be used to activate a speaker amp for the main speakers.
Plain Wires
To connect to an amplifier or powered subwoofer that does not take a balanced input, connect as follows:
Positive output (pin 12) to the amp's positive input (the center conductor on an RCA plug or jack)
Ground (pin 11) and negative output (pin 24) both to the amp's ground or shield (the outer conductor on an RCA plug or jack). Grounding the Navi's negative output will increase the amplitude your amp sees from the Navi's positive output.
Navi's amp remote turn-on wire (pin 23, +12V output) to the amp's remote input terminal
See 24–pin harness wire color table (above).
Do not connect the Navi's positive and negative outputs to separate left/right inputs on your amp. The two polarities will simply cancel each other out, and your amp will not produce any output.
The amp remote turn-on wire may also be used to activate a speaker amp for the main speakers.
8–pin or 16–pin Aux+Sub Socket
Some recent Forester models have a new, odd-shaped OEM under-seat subwoofer. This type uses the same balanced line-level signal that the Navi provides. In those cars, the sub connects to the HU via the 8–pin or 16–pin aux harness. Simply plug your Forester's factory aux+sub harness (with 8–pin or 16–pin plug) into this socket on my transplant harness.
Rear View Camera Input
Optionally, I provide a separate harness with 8–pin plug and single RCA jack for the Navi's rear camera input.
See installation instructions here.
Bluetooth Microphone Input
The Navi HU has a 5–pin socket for the Bluetooth microphone. Currently, I don't offer a harness for this input, but here is some information that will help.
Looking at the rear of the Navi HU, right-side up (with the fan on the left), the mic socket pins are numbered:
5 4 3 2 1
There are two types of mics:
"Old-style" Mic (Navi HUs installed in 2008–2009 Imprezas and Foresters)
Applies to Navi HUs with Kenwood model number beginning with FX??07...
For 2008–2009 models, the OEM mic is an optional accessory (P/N H0018FG300), and is extremely expensive for what you get (list $125.00, or just under $100 from online discount Subaru parts vendors).
The mic in these years is a simple, electret condenser mic, installed on top of the steering column cover, just behind the wheel.
The OEM mics in 2010–up cars will not work with 2008–2009 Navi HUs. The newer mics are a module located in the map light cluster, and include an amplifier circuit. That type of mic will be too loud with an older Navi.
Some older aftermarket Kenwood HUs use a mic very similar to the OEM H0018FG300 — Kenwood's KNA-VC300. It has the correct 5–pin plug to fit the Subaru Navi, and is nearly plug-and-play. You may still be able to find one on eBay. To make it work, you'll need to add a wire to pin 5 (either add a new pin, or steal one of the PTT wires).
Compatible mics are available as inexpensive accessories for many products (phones, hands-free kits, computers, etc.). It's not too difficult to wire one of those mics to your Navi. In a nutshell: Connect the mic to pins 1 (signal) and 2 (ground/shield), and connect pin 5 to ground (to either pin 2, pin 4, or chassis ground). See this post for pictures and more info on building and connecting your own mic.
Pin-out:
| | | |
| --- | --- | --- |
| Pin | Description | Notes |
| 1 | Mic audio input | Also provides DC power to the mic element |
| 2 | Mic ground | |
| 3 | PTT detect | See "PTT" notes, below |
| 4 | PTT ground | |
| 5 | Mic detect | OEM mic ties this to pin 2. You may instead connect this to chassis ground. |
PTT Notes
The OEM mic includes an unused and undocumented 2–pin socket wired to pins 3 and 4. The Kenwood's KNA-VC300 mic has a Push-To-Talk button, wired to those pins. This function is present on the Subaru Kenwood Navi. However, you can use the "mute" button on the steering wheel for the same purpose: When an incoming call is ringing, press "mute" briefly to answer. During the call, hold the button longer to hang up.
"New-style" Mic (Navi HUs from 2010–up Imprezas and Foresters)
Applies to Navi HUs with Kenwood model number beginning with FX??09... or FX??10...
2010–up models use an identical 5–pin plug and socket, but changed to a new microphone. Located in the map light cluster, the mic is inside a small module with an amplifier circuit. See this thread for pictures and more info about a similar mic in non-nav cars.
The older H0018FG300 accessory mic (or an equivalent that you build yourself) will not work with the newer Navi HUs — they will be too quiet and the people you call will not be able to hear you. The OEM map light mics in non-nav cars also will not work. Even though both styles of mic look identical on Subaru's wiring diagrams, apparently there is a difference in the amplifier circuit.
At this point, the only solution I know that will work is to use an actual OEM mic module from a 2010–up Impreza or Forester that was built from the factory with the Navi HU.
Pin-out:
Pin
Description
Notes
1
Mic audio input
May also provide power to the OEM mic's amplifier circuit.
2
Mic ground


3
?
May still be the PTT function (can a 2010–up owner check this?)
4
?


5
?
Mic detect or
Mic power
On the mic in non-nav cars, the equivalent pin supplies +5V DC to power
the OEM mic amp circuit. However, with the Navi HU I think this pin may
still serve as mic detect input (same as on 2008–2009).
RDS-TMC Connector (EUDM models)
Some European OEM Kenwood Navi models have this additional connector on the rear (next to the 5–pin mic socket), for a Radio Data System – Traffic Message Channel receiver. I don't have any information on where to find compatible receiver modules to connect to this port.
Connecting the Transplant Harness
Once you've taken care of all of the unterminated wires on the 24–pin harness (either connecting or insulating each of those wires), installing the transplant harness is very straightforward:
Plug the 14–pin plug into the Navi's 14–pin power/speaker socket
Plug the 24–pin plug into the Navi's 24–pin nav and A/V signal socket
Connect the 20–pin socket to your car's factory 20–pin radio harness
Connect the 8–pin socket on my transplant harness (if present) to your car's factory 8–pin aux harness. Note: The Navi's rear view camera socket is the same type of 8–pin socket. Do not plug your car's aux harness into the rear camera socket!